WHAT IS PRETÉRITO PERFEITO?
Pretérito Perfeito is the equivalent to Past Simple, in Portuguese.
It is used to talk about finished actions in the past.
Let's see some examples:
1) " Ontem, fomos ao cinema" ( yesterday, we went to the cinema)
2) "A semana passada foi o aniversário do Miguel" (Last week, it was Miguel anniversary) .
In both examples we are mentioning events already finished in time and we used adverbs of time, that reinforce the fact that these actions already happened : ontem ( yesterday) and a semana passada ( last week).
TIME EXPRESSIONS FOR FINISHED ACTIONS IN THE PAST
There are other expressions of time that can give us this idea of a finished action in the past:
> Anteontem ( the day before yesterday).
> Há uma semana, há dois anos , há muito tempo (one week ago; two years ago; long time ago). Notice that "há" in this context means "ago". "Há"is in fact the verb " haver" (= there is) . If we made a literal translation it would mean " there is one week" or " there are two years".
> O mês passado, o ano passado (last month, last year).
To build Pretérito Perfeito ( past simple ), you should also know the endings. Sometimes you do not have the time expressions in a sentence and the way you can identify a tense is through its ending .
In Portuguese the endings are distributed in three main parts: verbs ending in "-ar", verbs ending in "-er" and verbs ending in "-ir". For example , " amar" is the infinitive of the verb " to love" and ends in "-ar"(amar). " Correr" means " to run" and ends in "-er" (correr). "Dormir" means "to sleep" and ends in "-ir" ( dormir).
ENDINGS OF PRETÉRITO PERFEITO
Watch the following image and have a look at the regular verb endings in Portuguese.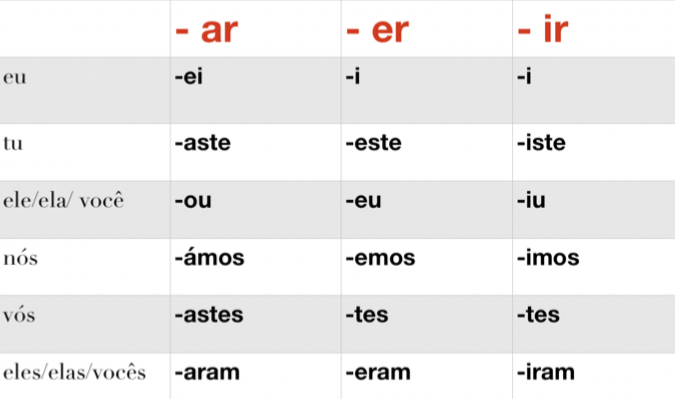 Now let's see how it works with the verbs we already mentioned (amar, correr and dormir).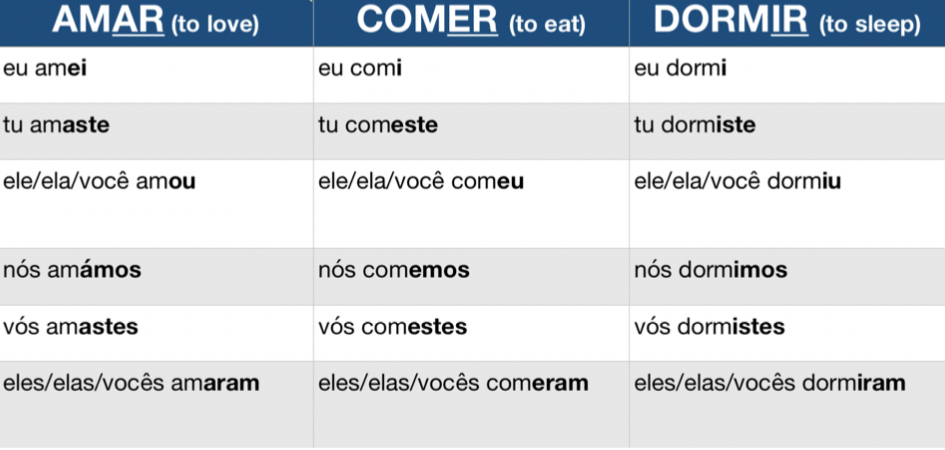 In the following video You will find a story in Pretérito Perfeito.